Yellow Jacket Orbital Stretch Wrapper
+ Add to Quote Request
The Yellow Jacket Orbital Stretch Wrapper is an innovative wrapping solution for impossible and oddly shaped loads.
A patented, semi-automatic orbital wrapping machine, it is a unique device whereby the operator drives pallet loads into the machine by forklift truck. The unit requires only one operator and it's so savvy, that they do not leave the forklift when the device is in use.
The Yellow Jacket Orbital Stretch Wrapper protects products and secures shipments with incredible ease. It's so versatile and robust that it can handle and wrap a range of oddly shaped goods of varying sizes. It is so quick and efficient that it has improved processes and productivity for manufacturers and customers worldwide.
Additional Information
Why you need to welcome the Yellow Jacket to your working family…
Manual wrapping of pallets is extremely time-consuming. The Yellow Jacket Orbital Stretch Wrapper automates this process, allowing workplaces to reduce costs and improve their production speed dramatically.
There are a number of benefits when adopting a system like the Yellow Jacket, as the device effectively secures pallets and goods of differing dimensions with the utmost ease, and without any additional resources.
This device can wrap a load in approximately 1 minute – a task that would take two employees approximately 15 minutes to complete manually, by hand. It reduces labour costs by more than 50% and quickly secures a significant return on investment.
How does it work?
It's incredibly easy to use this device as no manual labour is required! It only requires one operator to load goods via forklift. The product is wrapped when the ring rotates around the product pallet, all whilst the operator remains completely in the forklift. The stretch wrap goes over the product and under the pallet tightly securing the load to the pallet. Film is applied automatically and cut at the end of the cycle. Any overlap is controlled by the wrapping unit's forwards and backward movements.
The Yellow Jacket is portable, convenient, versatile and incredibly safe. There is no need for any additional strapping materials or cartons as the Yellow Jacket completes the process autonomously. Pallets are tightly wrapped and secured, and there is no risk of a load falling or shifting when transported.
It can wrap almost anything!
The Yellow Jacket Orbital Stretch Wrapper can handle products that are impossible to be wrapped with turntable machines. It conquers standard, oversized, low-profile and irregularly shaped loads with no weight restrictions. Some images shown depict some difficult products that have been wrapped and delivered securely with this outstanding orbital stretch wrapper.
What are the benefits?
This device
ultimately increases productivity, employee performance and production efficiency
, all whilse minimising labour costs and requirements. Its ability to wrap a number of products make it incredibly versatile and flexible.
The Yellow Jacket Orbital Stretch Wrapper is incredibly safe as it removes any potential movement that could cause back or lifting injuries. Workplaces can be confident that the unit will protect products and employees, as it safely secures loads to pallets without the need for additional banding or strapping and causes no damage during its action.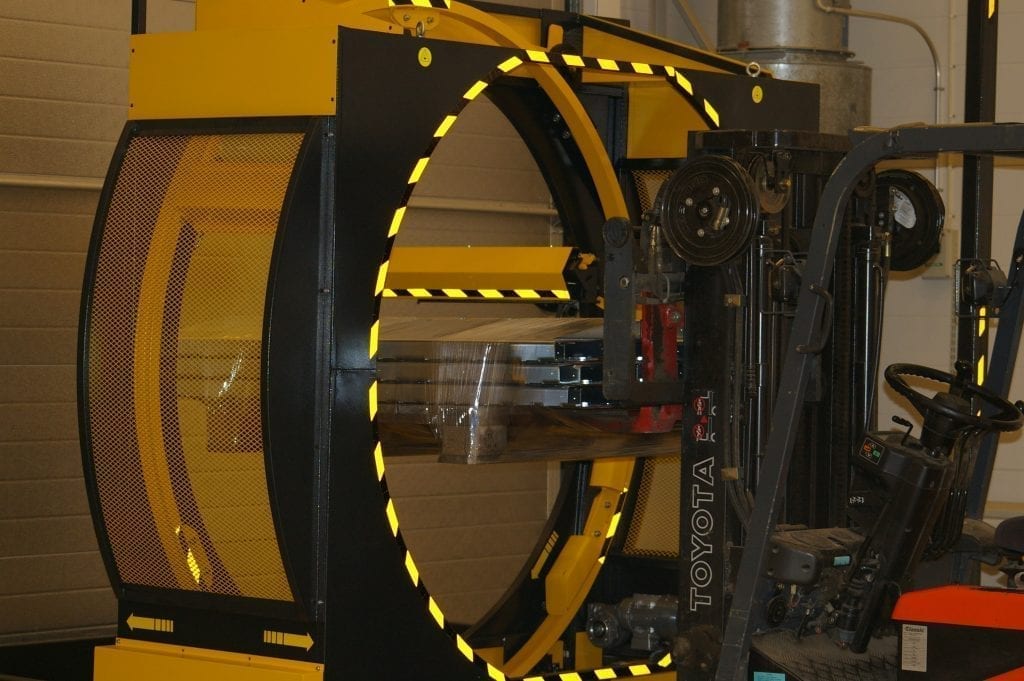 It takes less than an hour to set up the device. It is low in maintenance and incredibly easy to use by anyone on site. The unit plugs into a general power outlet and its fork pockets allow the unit to be moved where it needs to go. The stretch wrapping process takes 3 minutes or less, allowing for faster operation. It uses standard machine grade 20″ film. No stretch wrapping method can beat the benefits and overall savings (in consumption, labour, freight and efficiency) that the Yellow Jacket provides.
Technical Data and Requirements
Capacity – 15-25 pallets/hour
Ring rotation speed – 5-20 rpm
Power supply – 230V / 50 Hz
Maximum diagonal of the load – 1730 mm
Maximum length of the load – 1965 mm
Adjustment of film tension – Manual
Overall machine dimensions – W/L/H 2300 x 2350 x 2410 mm
Machine weight – 580 kg
Not what you're after?
Continue to browse our great selection of stretch wrapping products.
Click the PDF button to learn more.
Product Variations
| | | | | |
| --- | --- | --- | --- | --- |
| | Yellow Jacket Semi Auto Stretch Wrapper | P24175 | | |