Wheelchair Mover – Battery Powered
+ Add to Quote Request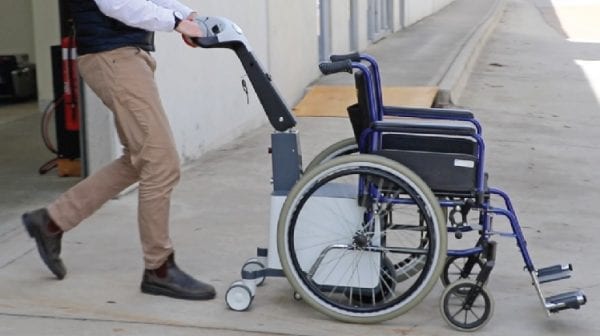 Our Wheelchair Mover allows you to power-assist your fleet of wheelchairs. A safe and ergonomically designed unit, it easily moves and transports patients in non-powered wheelchairs and mobile care chairs. Effortlessly navigating slopes and tight corridors, this device is a great solution as it improves a patients comfort while also reducing the risk of manual handling injuries or strains to service staff.
The Wheelchair Mover is a smooth and easy-to-use device that is compatible with a variety of wheelchairs. It quickly hitches or unhitches via the push of a button. With a compact design and efficient steering capabilities, it is ideal for moving around hospitals, aged care and retirement communities, airports and in-and-out of lifts. It also features a 200 kg capacity (on flat surfaces).
Additional Information
The Wheelchair Mover safely transports patients, while ergonomically protecting staff!
With the Wheelchair Mover, the effort to push a 100 kg patient is drastically reduced. For normal manual push, the required sustained force for a patient in a wheelchair is 8 kg.  When using the powered mover, the battery power lessens this to 1 kg. The force required on a slope for manual pushing is higher.
Overall Features: 
A total of 200 kg capacity on a flat surface
Reduces force feedback through the chair for more patient comfort
Simple on/off push-button hitching
Easy to move and use
A powerful device, which increases user capability and reduces manual handling injuries
Ergonomic and compact design, great for moving in tight spaces
Easy to steer with an excellent turning circle
Quiet operation and smooth ride for patient comfort
Automatic park brake
Battery operated and rechargeable
Non-marking tyres
Key on/off switch, with park brake release (to enable manual operation in the event of a flat battery)
Suitable for moving wheelchairs around hospitals, airports, aged care and retirement homes, etc.
Specifications: 
Code – MEWM
Load Capacity – Move up to 200 kg on a flat surface
Dimensions (mm) – 757 x 472 x 1230
Maximum Speed – Up to 5 km per hour
Speed Mode – Thumb throttle acceleration with forward and reverse
Hitching – Simple push-button hitching/unhitching that fits a variety of wheelchairs
Safety Features – emergency stop button, emergency 'back-off' button, horn, automatically decelerates and stops when not driving forward
Battery – 2 x 12V 26Ah MK-gel batteries with a 24V smart charger
Designed and manufactured in Australia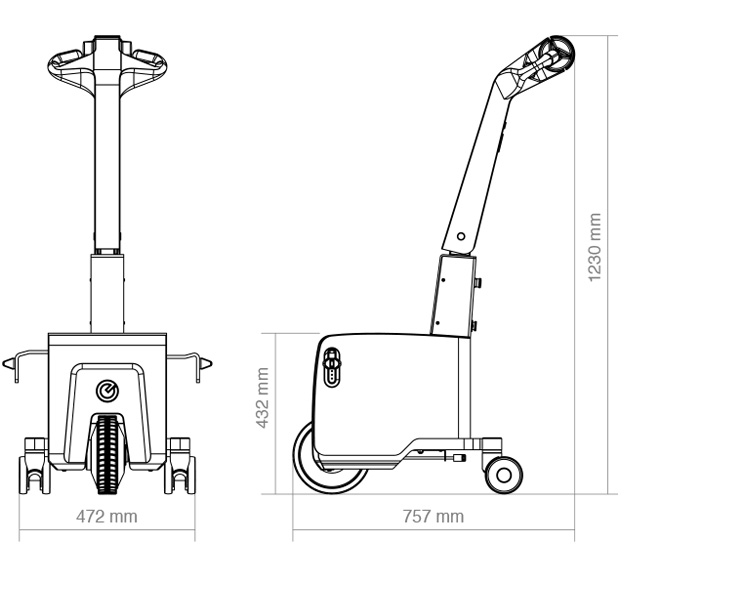 Would you like to continue your search?
Our safety solutions don't just stop here. View our wide range of Hospital Movers and Assets!
Click the PDF button to learn more.
Product Variations
Image
Description
Product Code
Price (excl. GST)

Powered bariatric wheelchair mover
with gel batteries & smart charger

MEWM