Bumpers – Warning, Protective & Wall Protection – KNUFFI
+ Add to Quote Request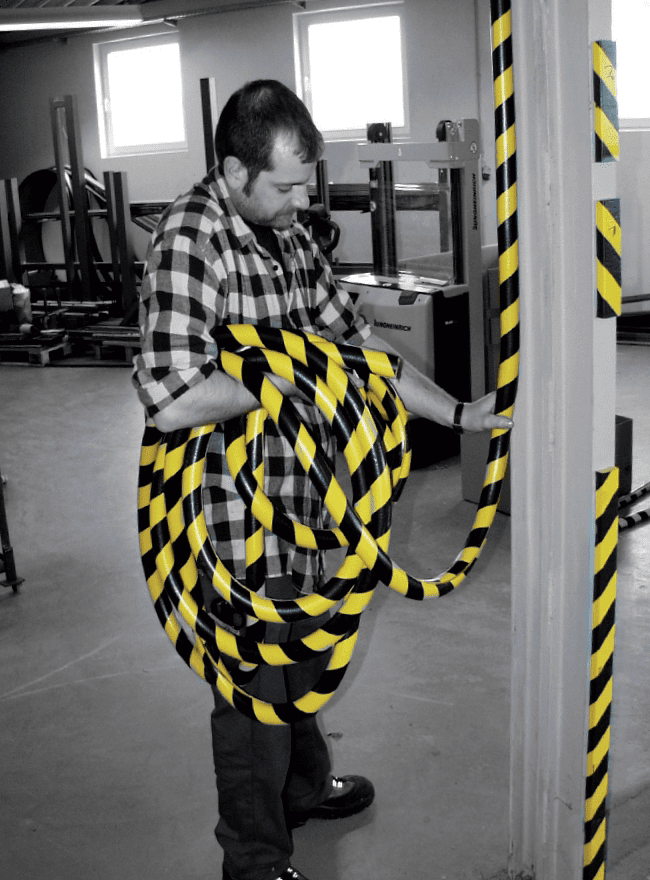 Knuffi ® warning and protective bumper guards act as a personal crumple zone for people, machines and fixtures, absorb hard impacts and thus prevent injury or damage.  This can mean that staff absences due to injury or downtimes due to repairs are a thing of the past.  The highly effective warning capability of the black and yellow markings highlights sources of danger at edges, gaps and obstacles making them easy to recognise and thus reducing accidents.
Knuffi ® resistant to temperatures from -40°C to +100 °C and are also resistant to damp, make them versatile for use both indoors and outdoors, e.g. on transport routes within a company's premises, on machinery, on walls and thoroughfares, shelves, gates and much more.
New Product:
Wall Protection Kits for corner and wall protection with tough stainless steel backing for mechanical attachment. See the PDF below.
BEWARE!
There are other lesser quality products in the marketplace manufactured from EVA instead of PUR.  EVA products are light weight, cannot absorb impacts without losing shape & are not dimensionally stable.  To support our product we give KNUFFI products a functional guarantee of 5 years.