ParceLift Conveyor Mounted Vacuum Tube Lifter
+ Add to Quote Request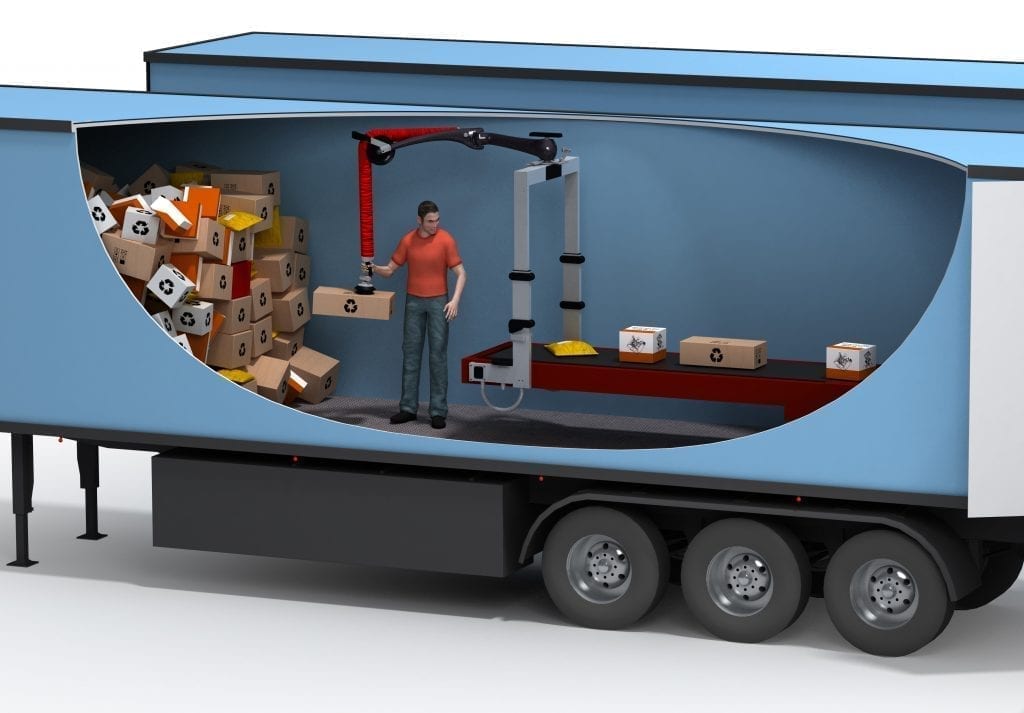 The Vaculex ParceLift Vacuum Tube Lifter is ideal for rapid loading and unloading of containers and trailers. Suitable for goods between 0-40 kg.
Perfect of rapid loading and unloading of loose loaded goods (trailers and containers)
Can be developed for confined spaces and areas with low headroom
Very ergonomic
Increases productivity
Reduces manual handling risks
Ideal for goods up to 40 kg (and of varying shapes)
Lift automatically adjusts to fit inside containers and trailers
Fully integrates with telescopic conveyors
Already in use at many distribution centres and several large Parcel Carriers
Additional Information
An ergonomically and user-friendly designed vacuum lifting device, the Vaculex ParceLIft is great for minimising injuries associated with manual handling. This unique system can be integrated with telescopic boom conveyors, to ensure high volumes of goods are loaded and unloaded at a fast pace.
Vaculex ParceLift is strong, but light in construction. Its articulated arm smoothly moves to goods, with no resistance. Goods can be lifted from any side and rotated through 360° as required. Ideal for its ability to lift a variety of goods, this item is speedy and efficient.
The ParceLift improves working conditions for any personnel unloading and loading loose-loaded cargo. All control functions are built into a compact and ergonomic handle, with suction cup, ensuring no effort is required during the lifting process. Operators can easily control heavy loads with their free hand, whilst the other handles the loads manipulation.
Vaculex ParceLift uses patented technology that allows it to be used in confined spaces and in areas with low headroom i.e. shipping containers and pantechnicon trucks. Successful installation of these devices has been completed at several locations for Australia Post. They adopted this technology for their main distribution centres and parcel facilities. The need was to move a lot of items fast, and with the ParceLift they were able to do so.
There are a number of differences when unloading goods with and without Vaculex ParceLift. Without the device (as shown in the first image below), operators are forced to lift heavy boxes and physically lift them out as they unload containers or trailers. This can cause serious strains and physical exhaustion. Also, productivity is low as an employee's physical capabilities are relied on.
With the ParceLift (as shown in the second image below), unloading is seamless and without strain. An operator uses the vacuum lifting device to suction onto heavy parcels and move to the required position. Teamed with a telescopic conveyor, these devices are stronger than ever, making processes incredibly fast and increasing productivity.
| | | |
| --- | --- | --- |
| | VS. | |
It has the need for speed

The Vaculex ParceLift is specifically designed for rapid handling. With this unique vacuum lifting aid, you can unload/load goods in trailers or containers faster than ever before.

Reduces Injuries and Increase Productivity

With innovative vacuum lifting technology, the Vaculex ParceLift drastically reduces lifting hazards and the risk of repetitive strain injuries. The work becomes significantly easier to accomplish, compared to manual lifting, and productivity can increase significantly.

Easy to use and on so many goods

Vaculex ParceLift is so easy to use, that it only requires minimal training for operation. Ideal for a wide variety of goods – including parcels, boxes, sacks, foods, baggage, sheets of metal, etc. – it suits a number packages, of many shapes and sizes. To ensure this device operates with maximum performance, the ParceLift has been designed to suit low weight/high strength material (like carbon fibre composites and aluminium). This makes the device perfect for unloading and loading goods at high speeds, as the operate uses minimal effort – the ParceLift does all the heavy lifting!

Customise your lift

Vaculex ParceLift automatically adjusts its inbuilt height to ensure maximum working height is always maintained. This makes it very effective for a number of different sized containers. Optional accessories are also available including lighting or air heaters (to increase comfort in different working environments), special control units and different suction feet (for baggage or parcels).

Assemble with a telescopic conveyor

The ParceLift ability to be assembled with a telescopic conveyor makes it a stronger and flexibly designed machine. The conveyor may already be installed on your site or can be obtained with a ParceLift upon purchase.
Technical Data
Vaculex ParceLift Crane, Frame and Lift Unit

Lifting Capacity

40 kg
Safety factor
(Attachment force/Lifting force)
2.3 minimum

Suction foot dimension*

Ø150 mm

Crane weight

8.8 kg

Lifter weight

5.8 kg

Total weight

76 kg

Sound level 1 m from control handle

54 dBA

Vaculex ParceLift Pump Unit
Power

2.4 kW 50Hz

Voltage

415 V at 50 Hz

Pump unit weight

107 kg

Sound Level 1 m from Pump Unit

63 dBA

*Several alternative suction feet are available
For more information on this product, please visit the Vaculex website. Alternatively, browse our extensive range of Vaculex products for all your lifting needs.
Click here for details on the Destuff-it & Restuff-it container unloader & loaders