VacuBoy Vacuum Lifters
+ Add to Quote Request
VacuBoy Vacuum Lifters are ideal for horizontal or vertical transportation of heavy loads. These device can lift and move loads of up to 2000 kg extremely efficiently with a high level of safety.
With its ergonomic construction, the lifter is robust enough to handle extremely heavy loads gently, thus increasing operational safety and productivity within many workplaces. The innovative design, easy operation and unique safety concepts make the VacuBoy a preferred option in manual handling activities.
Additional Information
The VacuBoy model handles a number of materials with ease!
These lifters are extremely adaptable and can be used for a range of tasks. Their sturdy design can safely handle aluminium, steel, corroded sheets, chequer plates, glass, window panes, stone slabs, laminated boards, sandwich panels and much more. Ensuring easy operation, the unit features a gentle suction pressure that allows goods to be moved without damage. VacuBoy are able to be customised to suit different workplace requirements. They offer a range of possibilities when in use.
Some suitable tasks include:

Transportation of drums and heavy containers
Transportation of stone and concrete plates
Handling of glass and windows
Commissioning of plate materials
Feeding of CNC laser and water jet machines
Feeding of punching, nipple and bending machinery
Easy to operate, incredible quality and reliable flexibility!
Only one person is required to control the VacuBoy. Its ergonomic handle, hand slide valve and electric solenoid release valve allow a single user to operate the device; placing one hand on materials and one hand on the lifter itself.
Painted in a vibrant safety yellow, the vacuum lifter is extremely safe. It features an integrated safety vacuum reservoir tank, as well as an audible warning system. The adjustable and suction plates can be turned off individually if and when required. This increases the overall versatility of the entire system!
The VacuBoy is a standard vacuum lifter, ideal for horizontal handling of dense plate materials.
It is available in a range of capacities, making its potential is unlimited.
Variations range from capacity up to 125 – 2000 kg and dimensions up to 5000 x 2000 mm – with many options beyond and in between. The standard main beam lengths include: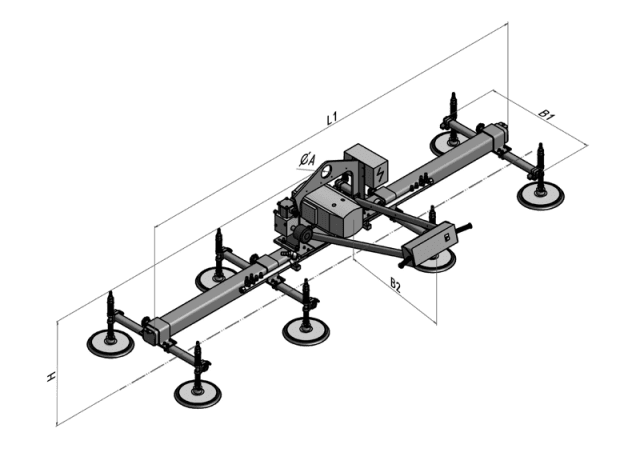 1800 mm up to 250 kg
2400 mm up to 1000 kg
3000 mm up to 2000 kg
No mess!
This device operates with an oil less vacuum pump for quiet use and no maintenance requirements. Regulated against Australian Standard AS4991, it is outstanding when it comes to safety.
Require something extra?
Available options include an optical warning system, higher pump efficiency, holder for pendants, variable and longer length main and cross beams, integrated crane controls, automatic suction and release controls and water separator for moist or wet work pieces. Special VacuPoro Vacuum Lifters are also available to handle porous and semi porous items such as MDF boards, wooden blocks and panels.
View our entire VacuBoy range to help find your perfect lifting solution!