Series 2100 Contractor Lift
+ Add to Quote Request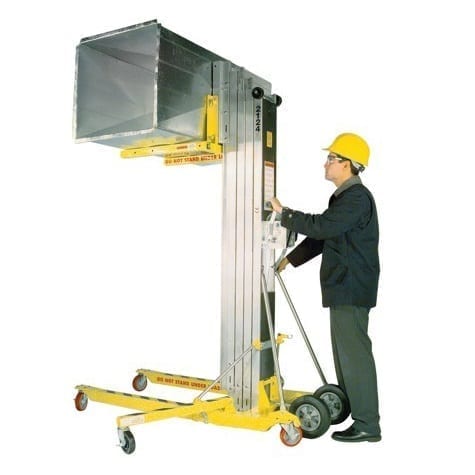 The Series 2100 Contractor Lift is a perfect all-rounder! Easy-to-use and compact, it features a tall mast to reach desired lifting heights and supports loads up to 300 kg. Additionally, the lifter is inexpensive, versatile and features many of safety advantages.
Similar to our Series 2000 model, this lifter is not only lower in price, but it requires fewer mast sections and is lightweight as a result. The base, forks and winch all have unique comparable capabilities of the previous model, offering a robust lifter. The Series 2100 Contractor Lift handles rough terrains with its hard tread wheels. The unit also folds down for easy storage and fits in a truck or fan when transporting to site.
Additional Information
Make lifting easier with our Contractor Lift! 
Available in two models, the Series 2100 Contractor Lifts can support loads up to 300 kg and reach heights up to 7.2 m. These devices are well-equipped with various safety features, including a loading bar, lockable castors, reversible forks, pulley guards and fast action stabiliser legs. The unit easily navigates over rough terrains and is designed to move heavy loads ergonomically. With a taller mast, the Series 2100 Lifter is able to reach desired work heights and requires fewer mast sections. This makes it less expensive and lighter. 
Standard Features: 
Versatile and inexpensive.
Lifts up to 300 kg (maximum load capacity).
Extends and lifts to 3.9 m, 5.6 m, and 7.2 m.
Loading bar assists overhead cranes.
Reversible forks for added lifting height. Forks remove and reverse easily, using plunger pins.
Highly reliable, single-speed winch, which uses idler roller to feed cable evenly on the drum to avoid cable flats.
Inside-Mast Cable Feed that feeds inside the mast, removing any exposed cable from near the operator's face.
Fast action stabiliser legs are mounted on base top. The legs fold down with ease and lock into place.
Pulley guards ensure the load cannot come off.
Lockable 5″ castors that prevent the device from rolling.
Rough Terrain 10″ Wheels with a hard tread urethane.
Roller wheels to help roll the lifter into trucks or vans.
Handles are removable when not in use.
No tools required and no loose hardware affecting the device.
Plunger pins for quick readjustment and compact storage.
Variety of attachments are available.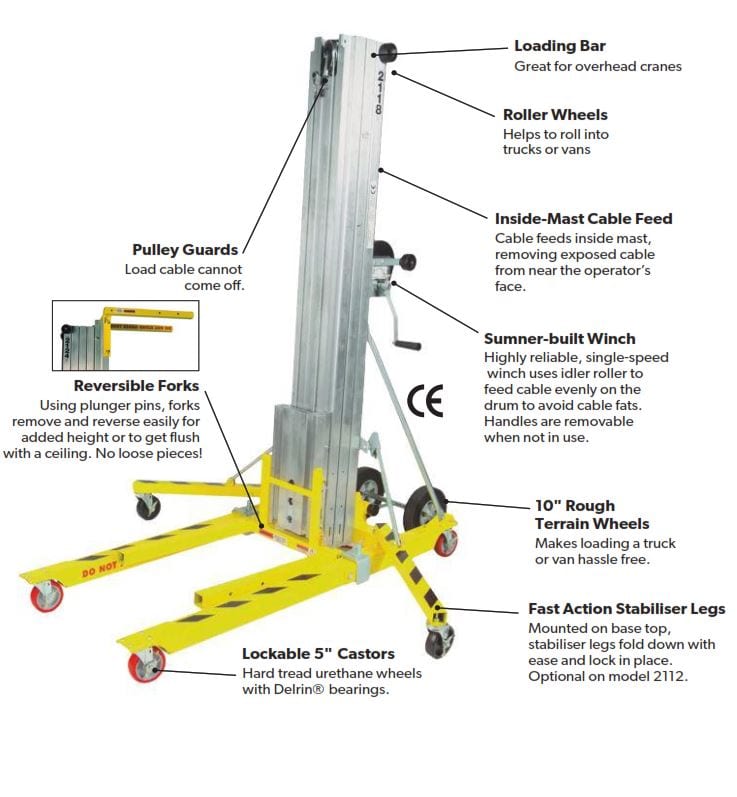 Customise your lifter with a range of optional extras, including a Boom Carriage (ideal for installing pipe or lifting from the top applications), Pipe Cradle, Fork Extensions  (for longer forks), Steering Handle or a two-speed Winch Handle Kit.
Specifications: 
| | | | | |
| --- | --- | --- | --- | --- |
| Model | Max. Height (m) | Lifting Capacity (kg) | Lift Weight (kg) | Shipping Weight (kg) |
| M2112 | 3.9 | 300 | 114.5 | 130.5 |
| M2118 | 5.6 | 300 | 145.9 | 161.8 |
| M2124 | 7.2 | 300 | 166.0 | 181.4 |
Require a similar lifter with a larger capacity?
View our innovative Series 2000 Materials Lifter, which features many of the great benefits of the Series 2100 and more!
Click the PDF button to learn more.
Product Variations
Image
Description
Product Code
Price (excl. GST)

Series 2100 Contractor Lift
300kg capacity
3900mm lift height

M2112

Series 2100 Contractor Lift
300kg capacity
5600mm lift height

M2118

Series 2100 Contractor Lift
300kg capacity
7300mm lift height

M2124