Round Leg Buffers
+ Add to Quote Request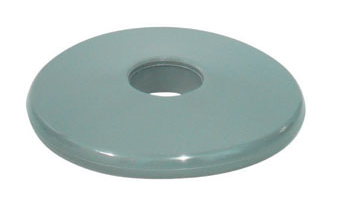 Round Leg Buffers are used on trolleys to prevent damage to corridor walls and surfaces. They are placed onto tubular legs, just before each castor. Each leg piece is rounded to protect equipment. When a trolley approaches the wall, the leg buffer makes contact first and freely revolves on the tubing. This unique functionality then allows the trolley to roll along the wall, thus causing no damage.
A wide range of Leg Buffers is available to suit varying trolley requirements, including options to suit both round and square tubing. Appropriate buffers should be fitted to reduce different types of damage and potential hazards for employees. In some cases, more than one type of buffer may be required.
Additional Information
Protect your trolley with Round Leg Buffers.
Round Leg Buffers reduce the amount of damage to walls, surfaces, doors and other equipment, which then reduces hazards for personnel. Such buffers should be fitted onto trolleys, so they can absorb the impact of an accident.
100 mm
125 mm
Colour
To suit tubing OD
ABJ100X25
ABJ125X25
Pewter Grey
25.4 mm
1″ round
ABJ100X32
ABJ125X32
32 mm
1

¼

" round
ABJX25SQ
ABJ125X25SQ

25.4 mm
1″ square

Dress Cap – ABJDC25
Black
25.4 mm
1″ square
In the cases of 25.4 mm square tubing, the urethane buffers are supplied with a 32 mm hole, as well as a 'dress-cap' with a 25.4 mm square inner and 32 mm round outer.
Protect your trolley against hazards!
A variety of buffers can be used to suit all applications of a trolley. Not only are Round Leg Buffers a great option, but Strip Buffers protect against door jambs or walls if a trolley cuts a corner, and Corner Buffers prevent a trolley hitting a wall when parked, stationary or moving.
Product Variations
Image
Description
Product Code
Price (excl. GST)

Size 100mm
Colour Pewter Grey
To Suit Tubing OD 25mm rd

ABU100X25

Size 100mm
Colour 100mm
To Suit Tubing OD 25mm sq

ABU100X25SQ

Size 125mm
Colour Pewter Grey
To Suit Tubing OD 25mm rd

ABU125X25

Size 125mm
Colour Pewter Grey
To Suit Tubing OD 25mm sq

ABU125X25SQ

Size 125mm
Colour Pewter Grey
To Suit Tubing OD 32mm rd

ABU125X32