Liquid Application Transportable Bulk Bins
+ Add to Quote Request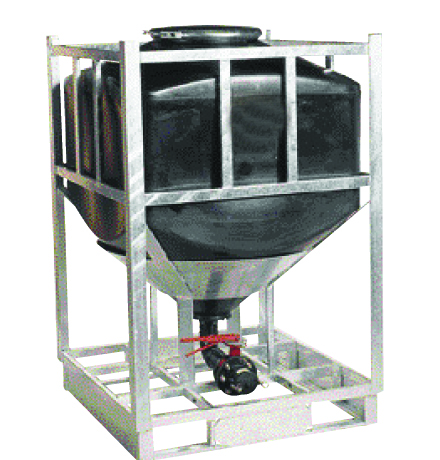 The standard Liquid Application Bulk Bins have a one-piece moulded polyethylene body which is housed in a steel frame. With a variety of capacities up to 2800 litres, 40º and 60º cone angles, lid opening options, outlets, the Bulk Bins are used in many industries. The standard lid is a 450mm clamped manhole cover. The standard bottom openings for liquid applications, are horizontal or vertical ball or butterfly valves that range in size from 25mm up to 150mm. Typical products successfully handled include emulsions, milk, vegetable oils, high viscosity fluids.
Not suitable for dangerous goods transport.
Also view our Transportable Bulk Bins for Dry Applications.
Product Variations
Image
Description
Product Code
Price (excl. GST)

Capacity: 1000 Litres
Cone Angle: 40º
External LxWxH: 1170x1170x1785mm

SE383L

Capacity: 1500 Litres
Cone Angle: 40º
External LxWxH: 1170x1170x2160mm

SE341L

Capacity: 2000 Litres
Cone Angle: 40º
External LxWxH: 1170x1170x2515mm

SE323L

Capacity: 2300 Litres
Cone Angle: 40º
External LxWxH: 1170x1170x2880mm

SE666L

Capacity: 28000 Litres
Cone Angle: 40º
External LxWxH: 1170x1170x3250mm

SE967L

Capacity: 1000 Litres
Cone Angle: 60º
External LxWxH: 1170x1170x1815mm

SE569L

Capacity: 1500 Litres
Cone Angle: 60º
External LxWxH: 1170x1170x2880mm

SE435L

Capacity: 2300 Litres
Cone Angle: 60º
External LxWxH: 1170x1170x2820mm

SE420L

Capacity: 2800 Litres
Cone Angle: 60º
External LxWxH: 1170x1170x3250mm

SE421L

Capacity: 2000 Litres
Cone Angle: 60º
External LxWxH: 1170x1170x2850mm
Fully open top

SE552L