Patient Transfer Aid – LiftMate
+ Add to Quote Request
Introducing the LiftMate Patient Transfer Aid – a new lifting device that allows you to safely handle patients and help them transfer comfortably to examination tables.
The unit prevents injuries and strains that could normally occur in patients with limited mobility or with staff manually exerting themselves.
Designed to prevent patient injuries or falls, the LiftMate easily navigates through doorways, hallways and corridors to assist hospital staff.  The first of its kind, it easily lifts and lowers a person on and off any standard exam table or elevated surface.
Additional Information
Invest in safety with this new advanced solution!
Patient mobility issues are occurring everyday.  Whether a person is pregnant, bariatric, injured or ill, the LiftMate improves examination and procedure processes.  Increase safety for patients, improve productivity for doctors and reduce injuries for nurses as less manual assistance is required.
The LiftMate can handle a weight capacity of up to 226 kg, working efficiently at the foot or side of any exam table, bed or elevated surface.  Its hand rails help patients feel secure when the unit is in motion and its large platform and grated step ensures a patient can easily access the device.  The unit also features emergency stops, non-slip grip bars and battery powered operation.
The device makes patients feel like their floating!
Its advanced design ensures falls are prevented, as it confidently secures patients and moves them to correct positioning.  When in use, the device is completely solid and stable.  Its auto-lock castors only engage when the button control is held down. The unit is also affordable and mobile.  It can be directed to service multiple rooms, smoothly moving along and around spaces with ease.  The LiftMate is a power table that works quickly, efficiently and safely.
An extremely beneficial solution for any healthcare industry. 
This innovative device features a long list of benefits, that will improve workplace performance and customer satisfaction.  Some advantages include:
The unit fits and works with any exam table (regardless of the model, brand or age of the component)
Features handheld controls ensuring it can be operated from either side of the device
Battery operated to easily integrate into any room
Total weight capacity of 226 kg (same as a standard exam table capacity)
Completely mobile and easily transportable – its castors ensure the device can be moved over any surface including tiles and carpets
Fits through doorways and can navigate corridors and hallways
Its sturdy construction ensures it's robust, however the design is also incredibly lightweight meaning it can be maneuvered by staff with ease
Auto-lock rubber feet prevent the unit moving when in use, to ensure it is convenient and secure
Incredibly easy to use for any employee
Reduces manual assistance and labour, when helping patients onto exam tables
Protects employees and patients by reducing Workplace Health and Safety risks
Product Features and Specifications
Weight Capacity – 226 kg
Lifting Height – 25 cm (5 cm taller than your average step)
Non-slip grip handles with rails for patient safety
Convenient hand pendant for intuitive operation
Non-slip large platform and grated step for comfortable patient positioning and access
Solid and stable when in use – castors only engage when control button is held down
Emergency stops on either side of the device (two in total)
Four auto-lock rubber feet for stability
Four retractable swivel castors to prevent rolling during use
Powered by rechargeable battery
Fits through standard doorways, corridors and hallways
Smooth movement when in use
Quiet actuators for comfort
Easy access for walkers
Prevents patient falls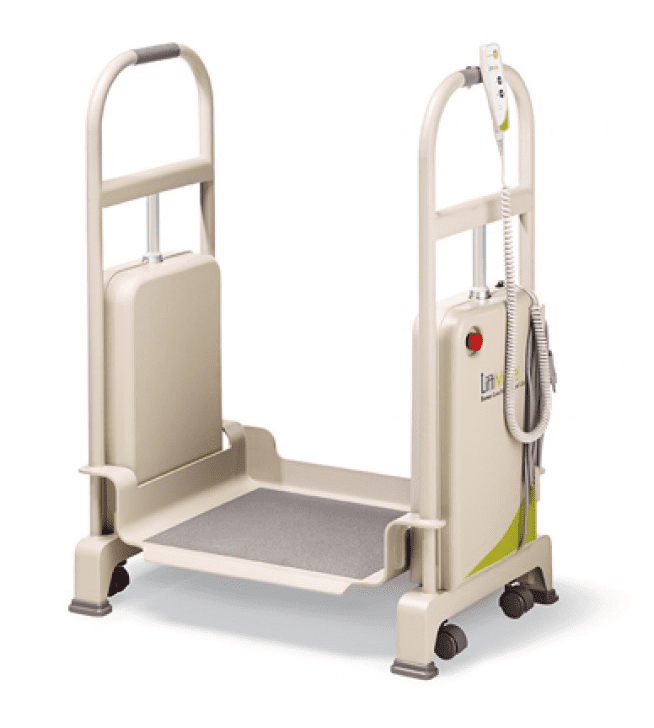 THE MANUFACTURER IS NO LONGER PRODUCING THIS DEVICE. SEE THE NEW SIMPLE UP REPLACEMENT.
Looking to improve your healthcare facilities?
Browse our wide range of Hospital Assets and Healthcare solutions.
Product Variations
| | | | | |
| --- | --- | --- | --- | --- |
| | LiftMate mobile patient lift | MBREW | | |