Forward Bin and Drum Tipper
+ Add to Quote Request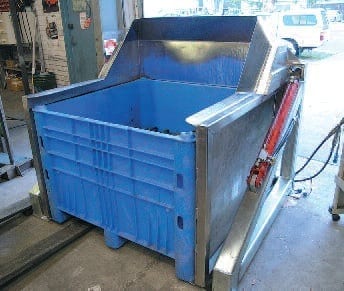 The forward bin and drum tipper allows rotation for simple and controlled emptying of containers such as "Chep Palecons", IBC's, Mega Bins, ULD's, plastic containers, pallet cages and 205 litre drums.
Suitable safety guarding is not included but will be required to comply with Australian Standards. Suitable for placement of boxes or drums into the tipper by a forklift, pallet truck or drum trolley. Rotation is controlled by the operator or by remote by a forklift operator without having to leave their seat. A 240 or 415V power pack is the supplied complete with raise/lower buttons, emergency stop & electrical lockout. Standard safety valves are fitted to the hydraulic circuit. This unit is custom engineered to suit the container size and the specification required. It is ideal for tipping our MegaBin and various sizes of stillage cages and ULD's. Available in galvanized, or stainless steel construction. 1000kg Maximum Recommended Capacity. Click here for the video.
The manufacturer has discontinued production of this device. View our other four forward tippers.
Product Variations
| | | | | |
| --- | --- | --- | --- | --- |
| | Forward Bin and Drum Tipper | MBT1000 | | |