FLIP Kick Rails
+ Add to Quote Request
Introducing the FLIP Kick Rail – a new robust safety board that effectively and reliably distinguishes any working area. Constructed from a robust polymer, this system provides thorough ankle height protection and absorbs impacts on both rails and posts. As part of our Flex Impact Range, this system is cost-effective, highly-visible and extremely adaptable.
The FLIP can be quickly installed thanks to its modular design and integrated connection pieces. The board is so flexible that it covers all wall or path angles and can easily wind along walkways, driveways, machines, and walls even in cold stores or decorative. It's ideal for both indoor and outdoor environments.
Additional Information
Use the FLIP in a variety of ways!
This dynamic Kick Rail has a variety of advantages, including its flexibility of use. Due to its distinctive two-colour appearance, the board is highly noticeable in loading and unloading zones and is commonly used to prevent goods from rolling or sliding away during delivery.
Another multi-purpose use is that the FLIP works superbly as a wheel guide for pallet trucks, trolleys and other similar items. In areas full of activity, its resilient protection ensures no damage is done to the trolley or wall should an accident occur.
Designed to guide pedestrians around a workplace, the FLIP helps organisations define and restrict routes, ensuring personnel do not stray accidentally into unsafe areas. The I-shaped FLIP is available in various lengths and combines perfectly with other collision safeguard products. Its made from an ultra-high impact polymer with rubber sealing, allowing it to be used in chemical and food industries where hygiene is paramount. The FLIP also can withstand temperatures of -10°C up to 40°C.
Features: 
Offers protection up to ankle height.
Modular design that constructs and endless safety path.
Robust with integrated connection pieces.
Absorbs impacts on both rails and posts.
Quick and easy installation.
Two colour appearance with clear visual distinction.
Multi-purpose use.
Cost-effective safety solution.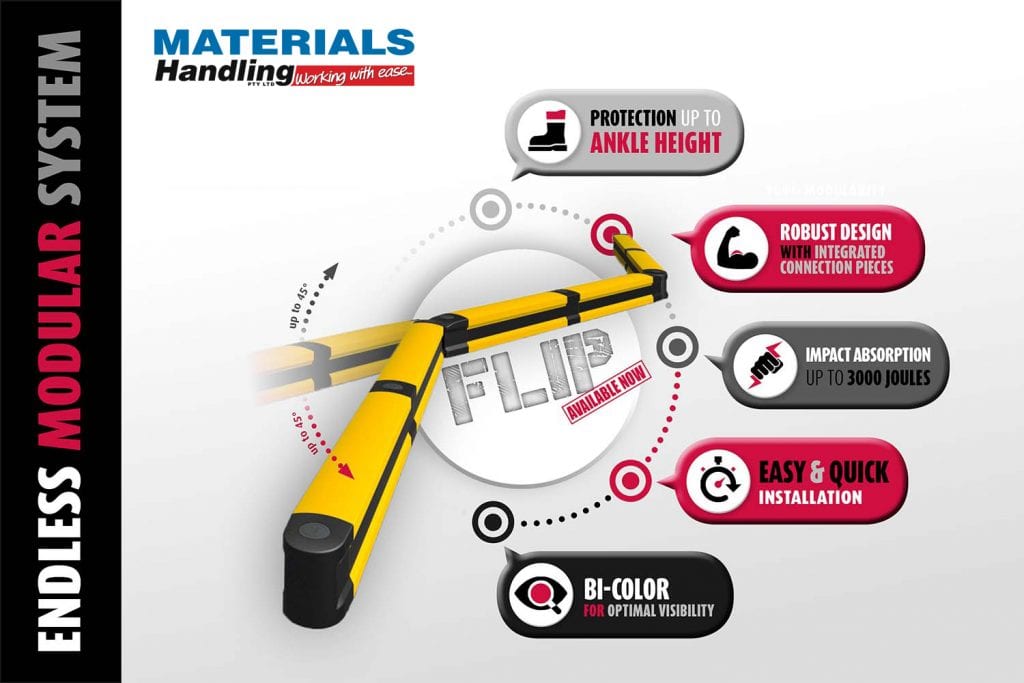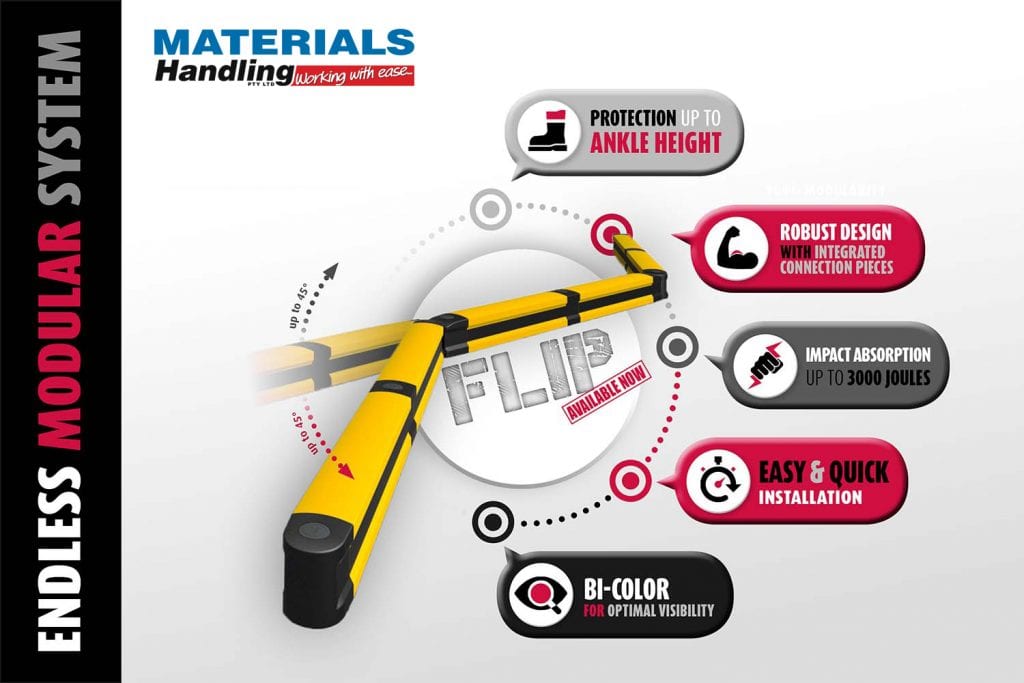 This profile sits perfectly under a TB400 or TB400 Plus Barrier, closing the gap between the floor and the bottom of the barriers tube. The FLIP is an I-shape profile of 180 mm (high) and 150 mm (wide), supplied in a standard Bi-colour of Yellow and Black.
Require further information?
Learn more about our original flexible barriers, Flex Impact.