Flex Impact HT Tunnel
+ Add to Quote Request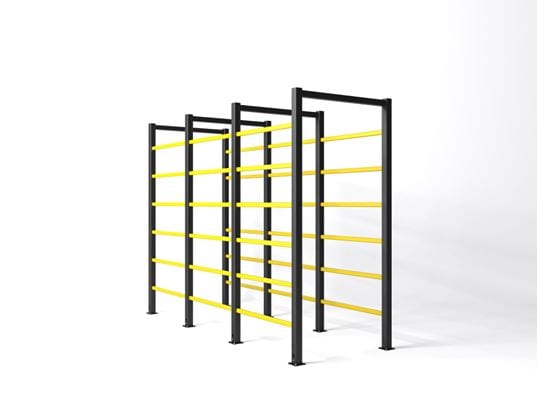 Create a safe passage and protect pedestrian walkways with the revolutionary Flex Impact HT Tunnel. This flexible barrier system shields personnel from potential falling products and stacked goods. With safety barriers on all sides that create a walk-through enclosure, a person can move through an area free from risks.
The HT Tunnel also protects pedestrians from vehicles and areas with frequent traffic, as it creates a highly-visible physical barrier. Unlike traditional steel barrier, Flex Impact products have a unique polymer construction. This allows them to bend, flex and return to their original form after impact. As a result, this barrier system provides a durable and cost-effective safety solution.
This range is available as either freestanding or wall-fixed.
Additional Information
The HT Tunnel provides protection for pedestrians against lighter falling products.
Just like our other handrails and products within the Flex Impact range, this tunnel barrier is flexible and absorbs any impact. This reduces the risk of injury or accident and minimises damage expenses to vehicles, falling goods or personnel. Where stacked goods are aplenty, this system protects pedestrian areas by preventing hazards reaching the segregated zone. If a walkway is elevated, the tunnel can reduce the risks of falls, acting as a fence. After an impact, the barrier returns to its original shape thanks to its protective properties. Little maintenance is required and installation is quick and easy.
Freestanding Tunnel: 
The Freestanding Tunnel provides a three-sided barrier and can be easily installed wherever in any workplace to protect personnel from lighter falling products.
Wall-Fixed Tunnel: 
Similar to the freestanding version, however, it is connected to the wall on one side. This solution is ideal for walkways that run parallel to a wall.
Combine the HT Tunnel to create the Grill Barrier.
When you merge the strength of our TB Series and the HT Tunnel, you get the incredible Flex Impact Grill Barrier. This solution protects warehouse racking against potential collisions with forklift trucks, which could have resulted in the racking toppling over. Such an accident could also cause infrastructural damage, costly losses and devastating injuries.
The Grill Barrier is equipped with the same innovative Flex Impact technology. Its active memory and polymer material effectively absorbs and handles any impact. It can also be integrated into a broader safety construction with its modular design, is light and easy to transport, highly-visible and requires little or no maintenance. Like all Flex Impact products, this barrier is moisture, UV and chemical resistant.
Learn more about Flex Impact! 
Flex Impact barrier protection is an investment in workplace safety. The strength and durable design of these products make them a standout choice. Check out our entire Flex Impact range.