Fast Fluid Recovery Vacuum Drum Pump
+ Add to Quote Request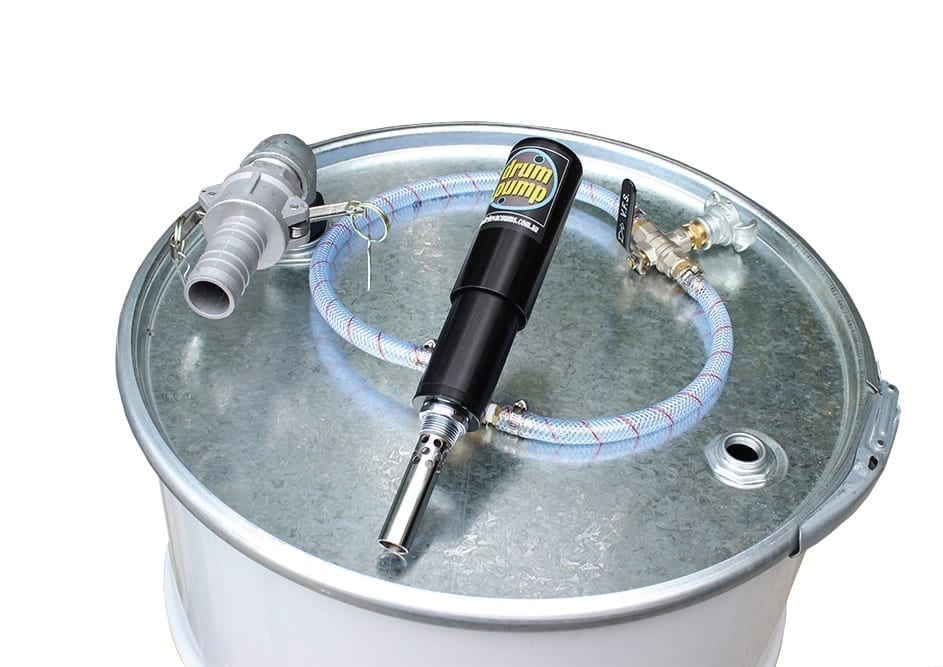 Turn a drum into a spill recovery vacuum for fast fluid extraction. It is simple to use. Just screw the pump into drum, connect hose and tool, connect air supply then turn valve & start fluid recovery of fluids like coolant, tramp oil, hydraulic fluid, engine oil, sludge etc. The standard Economy Pump D357 is a compact body, pneumatic powered, drum pump with an  aircraft grade aluminium inner manifold and is designed to turn a 205Litre or 60Litre drum into an extremely efficient vacuum cleaner for fluids only. Simply connect the Drum Pump to the 3/4BSP drum outlet, the vacuum hose camlock fitting to the 2 BSP drum outlet and connect compressed air line. Now you have a system that will vacuum up coolant, hydraulic oil, engine oil as well as sludge, so fast that it will fill up a 205Litre drum in just over a minute. It is fitted with a safety float valve that is designed to shut off the vacuum when the drum is full. The main benefit of this system is that it allows waste fluid encapsulated within the drum, to be sent off for recycling or waste disposal, accordingly this reduces maintenance and handling costs. With the D35769 Reverse Pump Out Kit the pump can now be filled and the contained fluid pumped out by reversing the compressed airline attachment.
Anti Static Models D357AS and D35769AS (reversing) Drum Pump Kits are also available with a special anti-static hose, metal camlocks and metal rod that allows it to be used with flammable liquids.
The kits consists of a Drum Pump, 3 metres of anti-static 32mm vacuum hose, camlock fittings, vacuum wand, crevice nozzle, and a 100mm vacuum head to allow complete cleaning out or removal of unwanted fluids. These units have 566 litres/minute (20CFM) pumps. If heavier duty units are required for longer hoses or heavier viscoty materials, there are also 850 litres/minute (30CFM), 1130 litres/minute (40CFM) or 1700 litres/minute (60 CFM) pumps available on request.
Product Variations
| | | | | |
| --- | --- | --- | --- | --- |
| | Drum Pump only | D357 | | |
| | Drum Pump Kit Reversing | D35769 | | |
| | Drum Pump Kit Non Reversing Anti-static | D357AS | | |
| | Steel 205L closed head drum | P205CH | $130.00 | |
| | Steel 60 litre drum | P60CH | | |
| | Drum Pump Kit Reversing Anti-static | D35769AS | | |