Centurian Fixed Bollard Posts
+ Add to Quote Request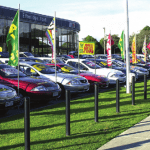 We have a vast range of Centurian range of Steel Fixed Bollard posts.  They are ideal for protecting property, controlling traffic and are strong enough to withstand tough impacts.  Designed from heavy wall tube, these bollards can take the knocks!  We offer Centurain Fixed Bollards in either surface mount or in-ground models, with or without chain rings.
Surface mount models have heavy fully welded base plates.
In-ground models are complete with welded concrete starter bars.
Welded chain attachment rings (Model with 'R' suffix only).
Reflective band around top of post.
Product Variations
| | | | | |
| --- | --- | --- | --- | --- |
| | Round 140mm diameter below-ground bollard – Galvanised & Powder Coated | C140BG | | |
| | Round 140mm diameter surface mount bollard – Galvanised & Powder Coated | C140SM | | |
| | Round 165mm dia. below-ground bollard (loose cap) – Galvanised & Pow Coat | C165BG | | |
| | Round 165mm diameter surface mount bollard (loose cap) – Galv. & Pow Coat | C165SM | | |
| | Round 220mm diameter below-ground bollard (loose cap) – Galv. & Pow Coat | C220BG | | |
| | Round 220mm diameter surface mount bollard (loose cap) – Galv. & Pow Coat | C220SM | | |
| | Round 90mm diameter below-ground bollard – Galvanised & Powder Coated | C90BG | | |
| | Round 90mm diameter surface mount bollard – Galvanised & Powder Coated | C90SM | | |
| | Round 63mm diameter below-ground bollard – Galvanised & Powder Coated | C63BGE | | |
| | Round 63mm diameter surface mount bollard – Galvanised & Powder Coated | C63SME | | |