CargoMaster BC171V Stair Climber
+ Add to Quote Request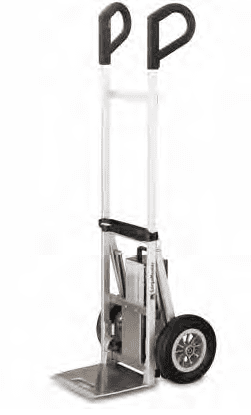 The manual handling of heavy goods on stairways can easily lead to accidents and ongoing health problems. CargoMaster BC171V Stair Climber not only moves heavy loads, it often removes the need for a second person to assist and deliver goods up and down stairs. For this reason, the device pays for itself in a very short time!
The CargoMaster BC171V is capable of transporting loads up to 170 kg at a speed of 25 steps per minute. Goods such as drink cartons, paper, drums, water bottles, office equipment etc. can be moved easily, with little effort, in one single operation, upstairs or downstairs.
Eliminate risks and costs by letting the CargoMaster Stair Climber do your heavy work!
Product Variations
Image
Description
Product Code
Price (excl. GST)

CargoMaster C171 Vario stair climber
Handles adjust in angle and fold away

BC171V

Support for round goods

M100012

Clamp for crates and barrels

M100013

Lashing strap with cam buckle

M100015

Vertical lift option (manual)

M100021

Battery charger for the vehicle

M100022

Battery pack

M100026

Battery charger (240V outlet)

M100027

Support for white goods

M100201

Toe plate 430x405x6 mm to hook-on

M100309

Toe plate 400x240x10mm

M100415

Toe plate to 120x600x8mm

M100427

Toe plate (standard) 295x240x10mm

M100428

Pneumatic wheel option

M100461