Carbon Fibre Jib Cranes
+ Add to Quote Request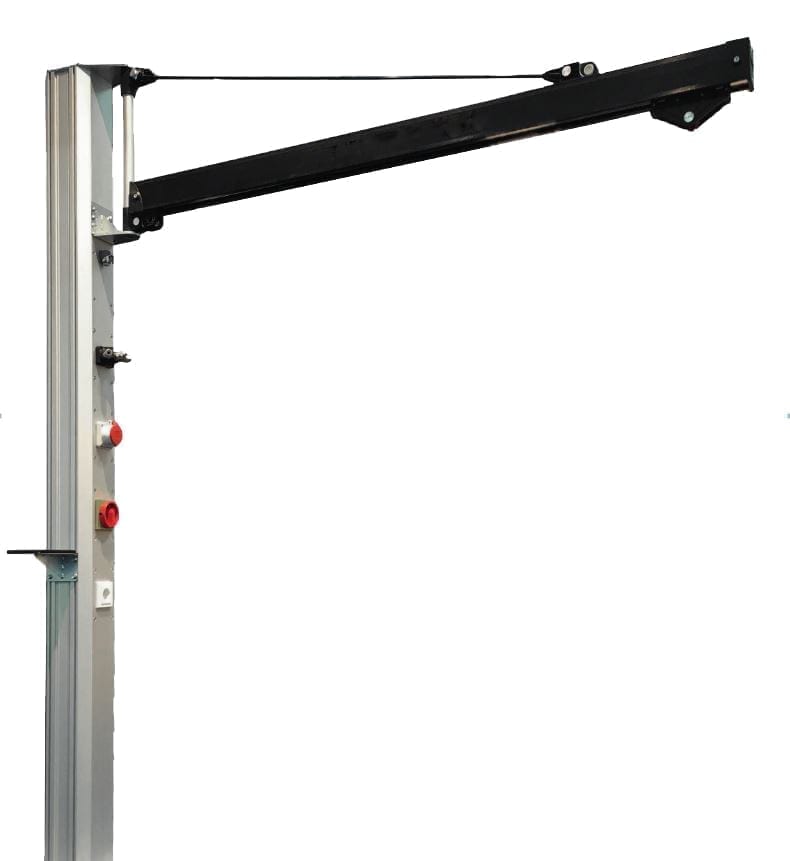 Our Carbon Fibre Jib Cranes are the lightest crane system on the market! Their innovative and ultra-light profile allows the device to easily handle up to 100 kg. Compared to standard aluminium systems, these carbon profiles feature a net weight reduction of approximately 50%!
Carbon Fibre Jib Cranes are designed to achieve maximum durability and stability. With many ergonomic benefits, they feature amazing safety and lifting capabilities. Each device offers maximum load capacity with maximum rigidity. They are versatile and can be integrated with existing crane systems. They can be easily repositioned or made mobile by mounting them on our MobiDisc portable base plate. 
This carbon jib weighs less than 15 kg (including complete slewing boom and load trolley). It is delivered pre-assembled and can be easily mounted to an existing structure or concrete floor using our pillar.
Additional Information
The Carbon Fibre Jib Crane is an innovative crane profile solution!
This product is unbelievably easy to use. It moves, rotates and can be partnered with other lifting systems for a complete handling solution. Carbon Fibre Jib Cranes eliminate repetitive handling and have a number of ergonomic features. They are the lightest crane profile available! For a reasonable cost, your workplace can improve productivity and manual handling procedures.
Features:
Ultra-light boom for mounting from walls and columns with an overall weight of 14 kg (3 m jib)



Jib crane kit is delivered pre-assembled. It can be quickly installed on site with only a few connections required
Final adjustment of the jib boom level is by tightening the screw at the end cap
Smooth running without jamming due to 8 rollers in the load trolley (made of fibreglass reinforced plastic)
Easy to slew (rotate) with an innovative swivel mechanism
Height of the pivot is 722 mm at 3000 mm reach
Net weight is 14 kg
Browse other lifting solutions!
Check out our wide range of Jib Cranes and find the perfect solution for your organisation.
Click the PDF button to learn more.
Product Variations
Image
Description
Product Code
Price (excl. GST)

MobiCrane pillar for carbon jib crane

MC-P-CF

Carbon jib crane set
Reach 3000mm

L0130003

Cable trolley with strap max. Ø 90mm

L0031008

Plate for wall-mounting carbon fibre jib

1955-02

Free-standing carbon jib crane
Reach 3000 mm
Height 3000 mm

L0130303

MobiDisc portable base plate

MC-BASE