Altrac Trolleys
+ Add to Quote Request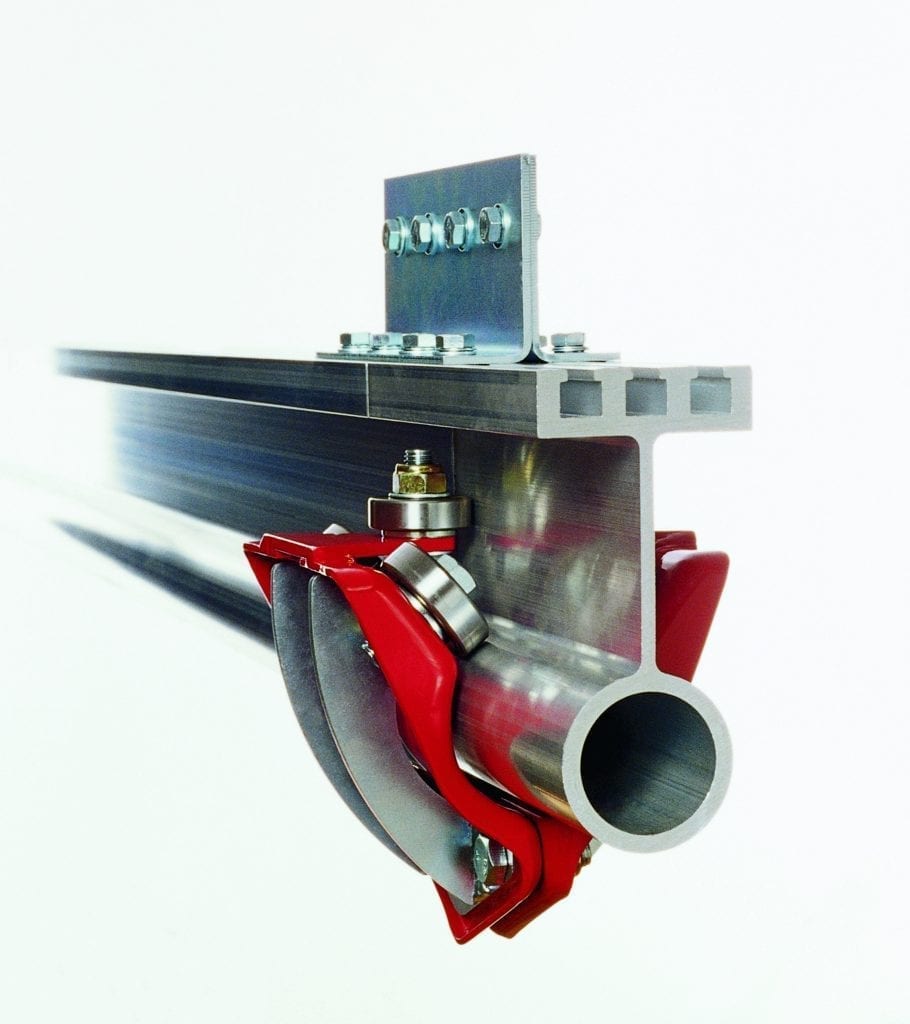 Altrac Trolleys have a wide variety of applications and benefits. The smart design means they will not twist or buckle under load and any trolley can be added or removed at any point along the line without the need to feed from the end. There is no need to remove existing trolleys.
With 0.5% rolling resistance, you will be able to move any load without effort. Extremely lightweight and easy to use, Altrac trolleys are free running, do not jam and best of all: made in Australia.
Of course it has been tested to comply with Australian Standards AS1418 for lifting applications but also AS1891.2 for use in Fall Arrest Systems. All weights specified are Maximum Rated Capacities (MRC) – safety factor has already been applied.
Click here for details on the Altrac Lightweight Crane Systems
Click here for details on the Altrac Crane Rail Bracket Systems
Click here for details on the Altrac Lightweight Jibs
Product Variations
| | | | | |
| --- | --- | --- | --- | --- |
| | ALTRAC MOTORISED TROLLEY | LMT01-1/15 | | |
| | UNRATED POWDER COATED STEEL WHEEL TROLLEY | LTT01 | | |
| | UNRATED POWDER COATED STEEL WHEEL WITH 6 SIDE GUIDE ROLLERS TROLLEY | LTT03 | | |
| | 500KG POWDER COATED STEEL WHEEL TROLLEY | LTT07 | | |
| | 500KG POWDER COATED STEEL WHEEL WITH 2 SIDE GUIDE ROLLERS TROLLEY | LTT08 | | |
| | 500KG POWDER COATED STEEL WHEEL WITH 6 SIDE GUIDE ROLLERS TROLLEY | LTT09 | | |
| | UNRATED POWDER COATED NYLON WHEEL TROLLEY | LTT10 | | |
| | UNRATED POWDER COATED NYLON WHEEL WITH 2 SIDE GUIDE ROLLERS TROLLEY | LTT11 | | |
| | 500KG POWDER COATED NYLON WHEEL TROLLEY | LTT12 | | |
| | 500KG POWDER COATED NYLON WHEEL WITH 2 SIDE GUIDE ROLLERS TROLLEY | LTT17 | | |
| | 500KG POWDER COATED NYLON WHEEL WITH 6 SIDE GUIDE ROLLERS TROLLEY | LTT18 | | |
| | UNRATED POWDER COATED STAINLESS STEEL WHEEL TROLLEY | LTT19 | | |
| | UNRATED POWDER COATED STAINLESS STEEL WHEEL WITH 2 SIDE GUIDE ROLLERS TROLLEY | LTT20 | | |
| | UNRATED POWDER COATED STAINLESS STEEL WHEEL WITH 6 SIDE GUIDE ROLLERS TROLLEY | LTT21 | | |
| | 500KG POWDER COATED STAINLESS STEEL WHEEL WITH 6 SIDE GUIDE ROLLERS TROLLEY | LTT27 | | |
| | 500KG POWDER COATED STAINLESS STEEL WHEEL WITH 2 SIDE GUIDE ROLLERS TROLLEY | LTT26 | | |
| | UNRATED POWDER COATED SEALED STEEL WHEEL TROLLEY | LTT37 | | |
| | UNRATED POWDER COATED SEALED STEEL WHEEL WITH 2 SIDE GUIDE ROLLERS TROLLEY | LTT38 | | |
| | UNRATED POWDER COATED SEALED STEEL WHEEL WITH 6 SIDE GUIDE ROLLERS TROLLEY | LTT39 | | |
| | 500KG POWDER COATED SEALED STEEL WHEEL TROLLEY | LTT43 | | |
| | 500KG POWDER COATED SEALED STEEL WHEEL WITH 2 SIDE GUIDE ROLLERS TROLLEY | LTT44 | | |
| | 500KG POWDER COATED SEALED STEEL WHEEL WITH 6 SIDE GUIDE ROLLERS TROLLEY | LTT45 | | |
| | 500KG E COAT STAINLESS STEEL WHEEL TROLLEY | LTT56 | | |
| | 500KG E COAT STAINLESS STEEL WHEEL WITH 2 SIDE GUIDE ROLLERS TROLLEY | LTT57 | | |
| | 500KG E COAT STAINLESS STEEL WHEEL WITH 6 SIDE GUIDE ROLLERS TROLLEY | LTT58 | | |
| | UNRATED E COAT NYLON STAINLESS STEEL WHEEL TROLLEY | LTT59 | | |
| | UNRATED E COAT NYLON STAINLESS STEEL WHEEL WITH 2 SIDE GUIDE ROLLERS TROLLEY | LTT60 | | |
| | UNRATED E COAT NYLON STAINLESS STEEL WHEEL WITH 6 SIDE GUIDE ROLLERS TROLLEY | LTT61 | | |
| | 500KG E COAT NYLON STAINLESS STEEL WHEEL TROLLEY | LTT62 | | |
| | 500KG E COAT NYLON STAINLESS STEEL WHEEL WITH 2 SIDE GUIDE ROLLERS TROLLEY | LTT63 | | |
| | 500KG E COAT NYLON STAINLESS STEEL WHEEL WITH 6 SIDE GUIDE ROLLERS TROLLEY | LTT64 | | |