Introducing Materials Handling
MATERIALS HANDLING Pty Ltd is a national distributor of an extensive range of manual handling & materials handling equipment including turnkey systems.
These products include lifting, conveyor, storage, access equipment, height safety, barriers, packaging, crowd & traffic control equipment, safety & waste management products.
We help organisations improve workplace safety, productivity, efficiency and profitability and have them "Working with ease...."
'Working with Ease' Catalogue
Have you receieved your free Materials Handling catalogue?
Case Study
Providing Power to a Con...
11 November 2014
Materials Handling Pty Ltd recently delivered this new trolley to a contractor within the constru...
Qld Supply Chain and Log...
15 September 2014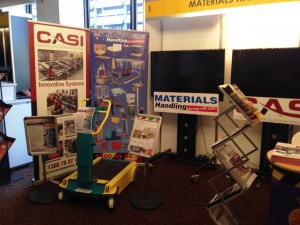 Materials Handling attended the Queensland Supply Chain and Logistics Conference in September. &n...
AWISA 2014 Exhibition
12 August 2014
Materials Handling proudly participated in the 2014 Australian Woodworking Industry Suppliers As...